Aztec's Treasure Feature Guarantee Slots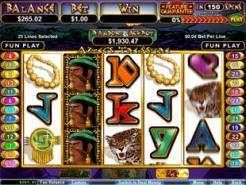 Current Jackpot
$1,000.00
Play Now
An older game vis a vis the colored line numbers on the slot, Aztec's Treasure Feature Guarantee Slots has been a favorite among players since its release. A random progressive slot game, the features include Wild, Scatter, and Free Spins.
Slot Game Developer
The provider is Real Time Gaming.
Play in Demo Mode
You can play this game in demo mode at Casino Slots Room.
The Theme
Aztec's Treasure is a historical theme-based slot about Aztecs.
Fun Play
You can play this slot game for fun at Casino Slots Room.
Real Money Play
Join Casino Slots Room to play this game for real money.
The Design
Aztec's Treasure Slots is a wonderfully designed slot game with beautiful symbols and distinctive cards. Players are transported back in time to the Aztec civilization when the treasure was rampant but not easy to claim.
Type of Game: Reels & Paylines
Aztec's Treasure is a 5-reel, 25-pay line random progressive bonus video slot.
Game Controls
At the top of the slot is the Balance window, Bet window, Win window, and Feature Guarantee. At the bottom are AutoPlay, Bet with up and down arrows, and Spin button.
Betting Options
The betting starts with one cent up to $5.00, with a max bet of $125 per spin.
Paytable Location
Click on the Help button at the right-hand corner of the slot to access the paytable.
Return to Player
The RTP is 95%.
The Popularity Score
Players have given Aztec's Treasure Slots a popularity score of 1.
The Winners
There have been many winners who played this game.
Bonus Round and Free Spins
The Wild symbol is the Aztec King, and the Golden Idol is the Scatter. The King will appear on reels 2, 3, and 4.
Free Spins Round
When players get 3, 4, or 5 Scatter Idol symbols appearing anywhere on the reels, they will win 5, 15, or 25 free spins, respectively.
The Feature Guarantee
The feature guarantee ensures that players can play the bonus round before 150 spins. To enter this feature, click on play. The indicator will spin a wheel and stop on a red or green slot. If the green slot appears, the feature guarantee will commence. Win up to 25 free spins with every bonus feature round.
Aztec's Treasure Slots for Mobile Users
Aztec's Treasure Slots is compatible with Android and iOS devices.
Commentary
Aztec's Treasure Slots is a fantastic game to play, considering the Feature Guarantee and Free Spins. We invite you to play this game at Casino Slots Room.